TERROR AIR LEVEL SIX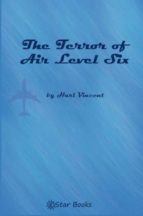 Ficha técnica

Editorial:

ISBN:

9781612100098

Idioma:

INGLÉS

Formato:

EPUB

DRM:

Si
Comprar
It was a sweltering evening in mid-August, during that unprecedented heat wave which broke Weather Bureau records in 2011. New York City had simmered under a blazing sun for more than three weeks, and all who were able had deserted the city for spots of lesser torridity. But I was one of those unfortunates who could not leave on account of the pressing urgency of business matters and, there being nothing else to do, kept doggedly at my work until it seemed that nerves and body must soon give way under the strain. To-night, as I boarded the pneumatic tube, I dropped into the nearest seat and could not even summon the energy to open my newspaper.
For some minutes I sat as in a daze, wishing merely that the journey was over, and that I was on my own front porch out in Rutherford. After awhile I stirred and looked around. Seeing none of my acquaintances in the car, I finally opened the newspaper and was considerably startled by the screaming headlines that confronted me from its usually conservative first page:

SECOND COAST TRANSPORT
PLANE LOST!

Disaster Like First in Air-Level Six!

NO wonder the newsboys had been crying an extra on Broadway! I had given no heed to the import of their shoutings, but this was real news and well worthy of an extra edition. Since the mysterious loss of the SP-61, only four days previously, the facilities of the several air transportation systems were seriously handicapped on account of the shaken confidence of the general public. It was not surprising that there was widespread reluctance at trusting human lives and valuable merchandise to the mercies of the inexplicable power which had apparently wiped out of existence the SF-61, together with its twenty-eight passengers and the consignment of one-half million dollars in gold. And now the NY-18 had gone the way of the other!

Details were meager. Both ships had failed to reply to the regular ten-minute radio calls from headquarters and had not since been seen or heard from. In both cases the last call had been answered when the ship was proceeding at full speed on its regular course in air-level six. The SF-61 last reported from a position over Mora in New Mexico, and four days of intensive search by thousands of planes had failed to locate ship or passengers. To-day, in the early hours of the morning, the NY-18 reported over Colorado Springs, on the northern route, and then, like the SF-61, dropped out of existence insofar as any attempts at communicating with or locating her were concerned. She, too, carried a heavy consignment of specie, though only eleven passengers had risked the westward journey.