THE 13TH CHAPTER: A MAHONEY GREEN MYSTERY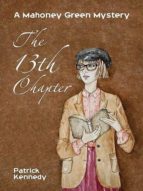 Ficha técnica

Editorial:

ISBN:

9783959263924

Idioma:

INGLÉS

Formato:

EPUB

DRM:

Si
Comprar
Where is Professor Montague Green?

Mahoney Green knows that something is wrong. With the help of a coded postcard, her best friend and grandmother, she must find her father before it's too late.

If Mahoney can break the code, defeat the mysterious treasure hunters and track down the missing chapter of a secret and ancient book, maybe she will solve the mystery of The Thirteenth Chapter and see her father again. One thing is for sure, it will be an adventure that she, and you, will never forget.

The Thirteenth Chapter is the first in an exciting new series of mystery books starring Mahoney Green.

The Thirteenth Chapter is published by Hippo Books, a publisher dedicated to producing interesting, readable and fun books. This book is suitable for English students with intermediate English or higher. Be sure to check out our other Hippo Graded Readers.