THE BRO CODE OF SAUDI CULTURE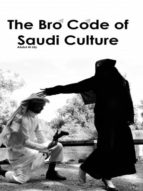 Ficha técnica

Editorial:

ISBN:

9781532830136

Idioma:

INGLÉS

Formato:

EPUB

DRM:

Si
Comprar
Every culture is governed by an internal code of conduct, and this publication offers the first written code of Saudi culture. The Saudi way of being has long been an oral tradition passed merely verbally from one generation to the next, despite its power to regulate every aspect of public and private lives. Most Saudi norms and values have long been unwritten and only orally communicated among Saudis. As a result, visitors to Saudi Arabia have been unable to read about Saudi norms and values. For this reason, this book spells out these norms and values in bold print, recording the Saudi code of conduct and displaying it in a published format. It displays 1234 bite-sized (often previously unrecorded) explanations of how the human body acts in Saudi Arabia. It describes ?the Saudi? from head to toe: the face, cheek, hair, eyes, skin, brain, mouth, ears, nose, stomach, waist, heart, genitals and extremities. It is the product of close observations of everyday activities and around 2,159 interviews with nationals and residents, over the past six years. This is the first Saudi study to be based on such a generous number of interviews.

This book is the first to talk about Saudi culture in a purely descriptive (and thus non-judgemental and unbiased) manner. It is a ?snapshot? of Saudi culture. It is the first to present Saudi values and norms in the form of a bullet-pointed list and in bite-sized explanations. Most of these explanations can be read independently of the other explanations. The way the content is focussed on bite-sized statements is intended to put across clearly and simply the information. The book is the first to be written by a male Saudi who was born and raised in Saudi Arabia, who is still based in this country, who is a former officially-recognised ?imam? (i.e. a worship leader) and who comes from a working-class family-yet he is a backpacker, has been with non-Saudis, non-Arabs and non-Muslims from different ethnicities, has studied in Oxford, has published with the largest international academic publishers, has written in different languages and hence has the ability to communicate with international readers and convey information to foreign mentalities.

Publications about Saudi culture tend to be too serious. This book is, however, meant not to be taken too seriously. It is, rather, intended to be entertaining and humorous (and, surely, informative). It tries to avoid the use of the words ?religion? and ?politics? because of two main reasons. First, these two words are sensitive and, more importantly, serious. Second, the book is purely cultural and written entirely for the sake of cultural exchange (not for religious or political matters). This book is unbiased, exposing both negative and positive practices in Saudi society. Many Saudi readers of the book have criticised the author for not trying to invite (through the book) non-Muslim readers to Islam. Yet, this book is written purely for the sake of international communication (not for religious reasons), with neither religious nor political agendas.

The book covers only what is normal (i.e. norms and long-established practices) in Saudi Arabia???it does not cover those emerging and changing liberal practices and outliers. Abnormal practices lie beyond the scope of the book. This book is associated mainly with the eastern and middle areas of Saudi Arabia. Besides, the Bro Code varies from one region to another; so its explanations do not apply to every single region in Saudi Arabia, but they do definitely constitute the norm in, at least, one region. This book is not intended to describe Saudi culture in comparison with other traditions, but rather to describe Saudi culture on its own.