THE CROSS AND THE BLACK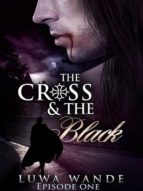 Ficha técnica

Editorial:

ISBN:

9781301110469

Idioma:

INGLÉS

Formato:

EPUB

DRM:

Si
Comprar
Brash and beautiful Claude Severin lives carelessly. A few gambling debts annoy him, and he wishes his big and brooding master, Serge, would stop frowning and kiss him instead. But life is blessed enough, that is until Serge announces he's fed up with Claude's sinful ways. Suddenly, Claude is faced with homelessness and the sickening prospect of leaving Serge un-kissed ?.

Meanwhile, a stranger, the tall and pale-faced Guy, hounds Claude about a mysterious debt. The debt is a bit of poppycock as far as Claude is concerned, but the stubborn Guy would hear none of that. Guy?s even willing to compromise on the nature of payment. And if Claude is careful enough, 'payment' might just be the solution to all his problems, but all for a mysterious price.

Amid the squalor and the excitement, the sacred and the profane of Renaissance France, The Cross and the Black serves up a jocular tale of bumshoving, blasphemy, and bumptious fellows. Episode one of a four part serial.