THE FIVE ELEMENTS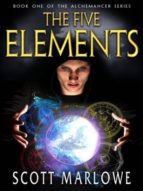 Ficha técnica

Editorial:

ISBN:

9781452339153

Idioma:

INGLÉS

Formato:

EPUB

DRM:

Si
Comprar
Aaron-scholar, alchemist, and sorcerer's apprentice-wants nothing more than to study his tomes, perform his experiments, and spend time with his closest friend, Shanna. Substitute the occasional romp about the city for the books and plenty of games of crutchit for the smelly alchemicals, and Shanna is just fine with that too.

Their routines-and their lives-are thrown into chaos when an elemental attack is launched against their home. Aaron thinks Shanna killed, while Aaron himself is forced to flee for his life. For Shanna, who survives that fateful night, the greatest adventure of her life is about to begin. Only the worst of nightmares awaits Aaron: pursued by dwarves, hell hounds, and a demon who will not stop until he is dead, the only thing keeping him alive is his own resourcefulness and an eslar mercenary whose reputation as a killer might make him the worst threat of all.

Though Aaron and Shanna travel different paths, their purpose is joined when they individually learn of the mysterious Fifth Element. Shanna sees it as the final piece in the puzzle that is her destiny. To Aaron's logical mind, it is an impossible ambiguity. Whatever the answer, the Fifth Element draws them back together and into a final confrontation not as allies, but as adversaries.