THE GOOD ENOUGH HUSBAND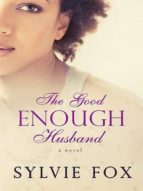 Ficha técnica

Editorial:

ISBN:

9781940811048

Idioma:

INGLÉS

Formato:

EPUB

DRM:

Si
Comprar
n The Good Enough Husband, Sylvie Fox delivers a riveting story about a woman who refuses to let her past define her future.

For years, Hannah Morrison Keesling?s marriage to Michael was good enough. Then she wakes up one morning and it isn?t. Taking her puppy Cody along, Hannah drives north to put distance between herself and her past. Planning to go as far as her SUV will take her, she has to stop on the Lost Coast when her dog gets sick. There she meets small town veterinarian Ben Cooper.

Ben is the man Hannah wishes she had met first. He?s perfect for her, but gun shy because he?s been lied to before and vows not to be betrayed again. Hannah leaves Michael and moves to Ben?s rural town to pursue a future with the man she knows is her soul mate. But Michael won?t let go so easily. Forced to make a decision between the man she chose and the man she loves, Hannah soon realizes that her choices will define everyone else?s consequences.