THE LAKE BENEATH THE STATION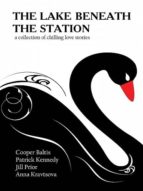 Ficha técnica

Editorial:

ISBN:

9783959263856

Idioma:

INGLÉS

Formato:

EPUB

DRM:

Si
Comprar
The Lake Beneath the Station is a collection of stories that is sure to send shivers down your spine and give you sleepless nights.

In these tales of love gone mad and ghostly romance, you will encounter characters that frighten yet enchant you. You will read stories that will make you want to look away, to go back to the light, and to the things that you know and trust...but the book will not let you go...instead you will read on, going deeper and deeper into The Lake Beneath the Station.

The Lake Beneath the Station is published by Hippo Books, a publisher dedicated to producing interesting, readable and fun books. This book is suitable for English students with upper-intermediate English or higher. Be sure to check out our other Hippo Graded Readers.