THE LAST SLICE OF PIZZA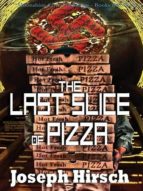 Ficha técnica

Editorial:

ISBN:

9781937327439

Idioma:

INGLÉS

Formato:

EPUB

DRM:

Si
Comprar
?...a writer of uncommon talent...He may even have succeeded in making me a convert to the sci-fi genre.??Tom Kakonis, author of" Michigan Roll and Criss Cross."

Michael Fermi is what many people would uncharitably describe as a ?loser.? He is in his mid-twenties, living at home with his mother and delivering pizzas for a living. His life is about to change, however, as he has been selected by an alien race which intends to install its parasites in his body, in order to use him for their own purposes. This unseen race, known as the Grand Arbiters, intends to observe humanity through the eyes of the lowly pizza man, in order to determine whether or not Man should be eliminated, and his precious Earth destroyed alongside of him.

?...a story that is both remarkable and profound."?Kyle Aho, author of "Soldiers of Misfortune: Parasite Lost".

?...the latest and best work of a gifted writer having tons of sharp-witted fun.??John L. Sheppard, author of "Small Town Punk.'?

?...a fun read, fast and engaging...Hirsch writes with authority and depth, as if present at the end of the world." S.V. Laurent, author of "Rites of Planets."

?...will keep you cemented through the entire journey.??Jon Konrath, author of "Thunderbird" and "Rumored to Exist."