THE LAWS OF PRIVILEGE TRILOGY.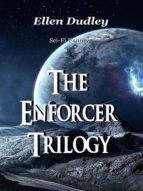 Ficha técnica

Editorial:

ISBN:

9783961421565

Idioma:

INGLÉS

Formato:

EPUB

DRM:

Si
Comprar
The Laws of Privilege Trilogy.

Part One.
Privilege.
Senior Enforcers Antonia Fell and Jeff Klimsch, embark on a search for a misguided scientist who threatens to destroy Earth, and finish up taking an unwanted journey, fifty years into the past.

Part Two.
Respect.
Chief Enforcers Toni Fell and Jeff Klimsch are faced with several riddles as they search for a missing corpse(s) while on the trail of an illegal organ dealer, after which Toni doubts whether she and Jeff are really just in their decisions as law enforcers.

Part Three.
Respect and Privilege.
Twin sisters go missing and Toni and Jeff travel through time in search of them. They return to a universe facing desolation, after which they come face to face with moral and religious issues in order to save humanity.