THE MARSHAL OF AGUA PERLADO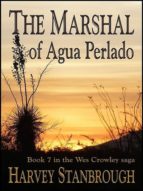 Ficha técnica

Editorial:

ISBN:

9783959269988

Idioma:

INGLÉS

Formato:

EPUB

DRM:

Si
Comprar
The Marshal of Agua Perlado is Book 7 in the Wes Crowley novel series. Having left his old life as a Texas Ranger behind, Wes Crowley travels to Mexico to seek the family of his beloved Marisól Martinez de Silva. He finds them in Agua Perlado, a quaint, peaceful fishing village in the state of Guerrero.

He becomes friends almost immediately with the entire family, especially Miguel, and basically adopts them as his own. The feeling, for them, is reciprocal. Except for one firebrand. The youngest remaining sister, Coralín, believes Wes a showoff and a ruffian. Or at least that's what she says.

Coralín blows into a room as if she's a whirlwind and leaves the same way. Although Wes is almost constantly confused by her words and actions, he is intrigued to the point that caution is not a viable option.

The one thing Wes knows for sure is he won't go back to being a lawman. But when some banditos come along and murder a member of this peaceful fishing village, Wes realizes he must protect those who deserve it... in his new job as the marhsal of Agua Perlado. The ride isn?t over quite yet.

There's plenty of action in this book as Wes arrests those who would destroy his adopted town, repels attacks and swaps tales with the proprietor of the local cantina, who is also the keeper of the tales for Agua Perlado and the surrounding region.