THE MILLION PIECES OF NEENA GILL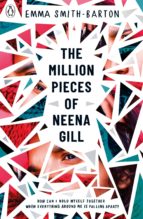 Ficha técnica

Editorial:

ISBN:

9780241363324

Idioma:

INGLÉS

Formato:

EPUB

DRM:

Si
Comprar
'Powerful, relatable and uplifting' - Emily Barr, author of The One Memory of Flora Banks
How can I hold myself together, when everything around me is falling apart?
Neena's always been a good girl - great grades, parent-approved friends and absolutely no boyfriends. But ever since her brother Akash left her, she's been slowly falling apart - and uncovering a new version of herself who is freer, but altogether more dangerous.
As her wild behaviour spirals more and more out of control, Neena's grip on her sanity begins to weaken too. And when her parents announce not one but two life-changing bombshells, she finally reaches breaking point.
But as Neena is about to discover, when your life falls apart, only love can piece you back together.
EMMA SMITH-BARTON
Emma Smith-Barton was born in South Wales to Pakistani parents. Growing up between cultures has heavily influenced her writing and she is especially interested in exploring themes of identity and belonging. Before writing, she taught in secondary schools for six years and is passionate about increasing awareness of mental health in young people. Her short stories have appeared in various publications such as Mslexia and The Bristol Short Story Prize 2016 anthology (under her pseudonym for adult fiction, Amna Khokher). The Million Pieces of Neena Gill is Emma's first novel for young adults.