THE POISON BED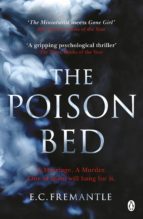 Ficha técnica

Editorial:

ISBN:

9781405920094

Idioma:

INGLÉS

Formato:

EPUB

DRM:

Si
'A Jacobean GONE GIRL. Dark and deeply satisfying, a tale of monstrous intrigue and murder' M. J. Carter
______________
London, 1615.
Robert and Frances Carr are imprisoned, accused of murder.
Their friend and confidante Thomas Overbury is dead.
And they both have a motive for killing him . . .
Frances, rescued from an abusive marriage, is determined to make a new life for herself . . . and will stop at nothing and no one to make sure she does.
Robert is now one of the most powerful men in the land. But to get to the top he couldn't help but make enemies.
One of them did it.
But who?
Because one of them will pay with their life.
E C FREMANTLE
E.C. Fremantle holds a First for her BA in English and an MA in Creative Writing from Birkbeck. As Elizabeth Fremantle she is the critically acclaimed author of four Tudor historical novels: Queen's Gambit, Sisters of Treason, Watch the Lady and The Girl in the Glass Tower. She lives in London and Norfolk.