THE SLUTTY DEACONESS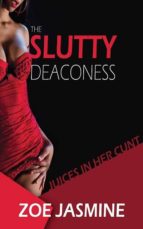 Ficha técnica

Editorial:

ISBN:

9783958304222

Idioma:

INGLÉS

Formato:

EPUB

DRM:

Si
Comprar
No man had ever eaten her quite so well or so thoroughly or had seemed to enjoy the feast quite so much.

Marcella Plummer, first deaconess of the Church of Holy and Mysterious Revelation was on a mission to search of a site for a new congregation assigned by her pastor, Thaddeus Polk.
In her series of somewhat fortunate events, she met a married middle-aged farmer who freely yanked hard on her spongy pillows and squeezed them, crushing her plushy, moist snatch against his mouth.

The Lord had never told her she should dislike what she did at His direction.