THE STARSEEDS OF DIVINE MATRIX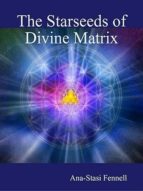 Ficha técnica

Editorial:

ISBN:

cdlxi00342649

Idioma:

INGLÉS

Formato:

EPUB

DRM:

Si
Comprar
This Book was designed to activate Your Cosmic Potential, Your Light Codes, hidden in Your Subconsciousness, in your DNA. It is a Universal Quantum Program for Self-Improvement and Realisation. Every Soul, who came on this Planet has a Mission to perform, this book will be your Spirit-Guide, who will bring You to Self-Discovery. So, we are on a way to take a journey into a Supreme Dimension for Self-Transformation...

Best wishes, Anastasie Fennell', MA in Ed.


Content

The Starseeds Of Divine Matrix
The Starseeds Of Divine Matrix
Dedicated To The Starseeds Of Isis
Copyright @ By Ana-Stasi Fennell
Content
The Prayer To The Divine Matrix
What Is Starseed?
Starseed Mission
Message From Conscious Starseeds
Starseed Self-Activation Process
Self Multi-Dimensional Energy Alighnment
The Cosmic Tree Of Life
Star Children
Indigo And Crystalline Children
Golden Auras
The Human Angel- ?Homo Luminous?
The Nature Of Multi-Dimensionality
An Evolutionary Leap
Telepathy
About Channeling
Types Of Channeling
Channeling From The Multidimensional Beings Of Pleiadians
(Recoded By Barbara Marciniak For The Starseeds)
The Dawn Of A New Era
Newest Updates In Health And Healing
Astral Transpersonal Journeys
The Multiverse
Computers, And Computer Terminology
Activities For Awakened Starseeds
The Quantum Therapy
Clairvoyance
Clairvoyance Through History
Developing Clairvoyant Abilities
The Sixth And Seventh Senses
...