THE STRUGGLE KNOWS NOT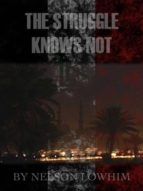 Ficha técnica

Editorial:

ISBN:

cdlxi00333685

Idioma:

INGLÉS

Formato:

EPUB

DRM:

Si
Comprar
This novel is the sequel to the short story "The Struggle":
A man, Walid, lives in Baghdad, where bombs tear apart markets, Americans fight without provocation and the police are too scared to stop any criminals as the streets run red with blood. He must protect his family, his neighborhood from this onslaught of violence. But how? He decides to use his brains and gun.
As a result he dives into the underbelly of a city in the throes of civil war. Fighting other Iraqis and the Americans, Walid must figure out how to survive.

Mohammad, tired of being pushed by the increasingly violent Walid, believes that Walid's actions are tearing apart the country. He decides to put an end to it.

An Iranian, Qassem, trained to work in the shadows for Tehran, plays with the Iraqis' desires for a better life to accomplish what his country wants.

An American soldier, misses home, but dutifully carries out his mission. When a fellow soldier dies, he fills up with anger, but keeps trying to clean his battlespace, one bad guy at a time.

Who will come out on top in this game where one's life is constantly on the line?