THESE ARE THE WORDS 2/E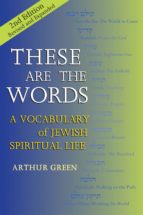 Ficha técnica

Editorial:

ISBN:

9781580236157

Idioma:

INGLÉS

Formato:

EPUB

DRM:

Si
Comprar
The basic vocabulary of Jewish spiritual life, explained with humor, insight and relevance to guide you on a historical and spiritual journey through Judaism.
Judaism itself is a language, a group's way of expressing beliefs, longings, aspirations and dreams. The vocabulary of Jewish life is the framework that Jews use to hand their past down to their children. It is also the vocabulary that people of other faiths need to know to understand Judaism and Jewish life.
In this revised, expanded, highly readable, enlightening and entertaining new edition of "the ultimate Jewish primer," one of the greatest spiritual teachers of our time takes readers?Jews and non-Jews alike?on a historical and spiritual journey through Judaism. Dr. Arthur Green explains the meaning, history and origin of over 150 core Hebrew words that are shared and understood throughout the Jewish world. With humor, insight and relevance, he lays out the basic vocabulary of Jewish communal and religious identity and shows why it is important for people to know and use these words in Hebrew.
DR. ARTHUR GREEN
Arthur Green, PhD, is recognized as one of the world's preeminent authorities on Jewish thought and spirituality. He is the Irving Brudnick professor of philosophy and religion at Hebrew College and rector of the Rabbinical School, which he founded in 2004. Professor emeritus at Brandeis University, he also taught at the University of Pennsylvania and the Reconstructionist Rabbinical College, where he served as dean and president.
Dr. Green is author of several books including Ehyeh: A Kabbalah for Tomorrow; Seek My Face: A Jewish Mystical Theology; Your Word Is Fire: The Hasidic Masters on Contemplative Prayer; and Tormented Master: The Life and Spiritual Quest of Rabbi Nahman of Bratslav (all Jewish Lights). He is also author of Radical Judaism (Yale University Press) and co-editor of Speaking Torah: Spiritual Teachings from around the Maggid's Table. He is long associated with the Havurah movement and a neo-Hasidic approach to Judaism.