TOURING FOR DEATH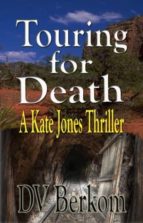 Ficha técnica

Editorial:

ISBN:

cdlxi00331493

Idioma:

INGLÉS

Formato:

EPUB

DRM:

Si
Comprar
Kate Jones is hiding out from her shady past driving jeep tours through the rugged high desert of northern Arizona, determined to stop looking over her shoulder and find peace from her mistake of a gun-toting, former life. Testifying against a Mexican drug lord and a dirty DEA agent didn't turn out to be a life enhancing choice and she's been on the move ever since.

Now, five years have passed with no sign of trouble and Kate's finally starting to believe she's safe. Her current goal is to make enough money so she can get lost in the tropics when the tourist trade dies off. Unfortunately, it's the tourists that are dying off and she may be next.

When Kate and Sheriff Cole Anderson join forces to catch the killer, sparks fly. Kate has to decide if it's safe to trust him with her secrets. But trusting him could mean death-

- for both of them

Review by AMosa, reviewer: "After spending five peaceful years as a tour guide in a small Arizona town, Kate is finally feeling comfortable and safe. Why her tourist clients suddenly start turning up dead is a shock and a new and complete mystery to her. In the past, she knew the danger that surrounded her came from her Mexican ex-drug lord former lover. This time she has no idea who's behind the murders. The only upside to the strange happenings is it brings her into close contact with the handsome and recently divorced town sheriff, Cole..."