TOXIC TREACLE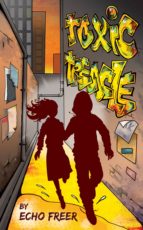 Ficha técnica

Editorial:

ISBN:

9781780950310

Idioma:

INGLÉS

Formato:

EPUB

DRM:

Si
SPECIAL PRICE OFFER FOR CHRISTMAS
Monkey is 15: a pre-breeder. He lives in a world where there are no parents: only female nurturers and male breeders. And soon he'll become a breeder himself. He'll graduate to the male zones at the other side of town for a life of partying and playing sport, leaving behind Angel, the girl of his dreams. She's destined for a life of child rearing and nurturing.
This is a world of the future: a world of oppression, a world run on the strict rules of the toxic T.R.E.A.C.L.E. regime - Training and Resources for Educating Adolescent Children in a Loving Environment.
But T.R.E.A.C.L.E. is not as it seems: people are disappearing, including Monkey's best mate, Tragic. And, when Monkey and Angel set out to find him, they don't realise it's a journey that could get them killed...
A thrilling, must-read book of intrigue, murder and forbidden love for all those who grew up enjoying Echo Freer's critically acclaimed Magenta Orange series.