UNDERSTANDING GOD AND SATAN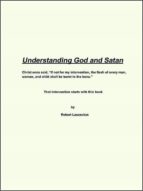 Ficha técnica

Editorial:

ISBN:

9780985646226

Idioma:

INGLÉS

Formato:

EPUB

DRM:

Si
Comprar
This book will explain God and Satan, their true nature, not the absurd stories about what they are. The stories about them never made any rational sense. This book doesn't ignore science, it embraces it. Wouldn't the truth about them have to make rational sense and be scientific as well if they existed? Of course it would, and it does.

There was a prophecy two thousand years ago predicting someday a book would be handed to Mankind which would finally explain God's mystery to all of Mankind. Its purpose would be to prevent a final war which would burn every man, woman, and child to the bone. Sounds like a nuclear war, doesn't it? How could anyone two thousand years ago describe a nuclear war unless they were tapping into a special source of knowledge about the future?

I made this book as cheap as I could so everyone could read it. If you do read this book, pass this information on, and if you're ready, read - God Stopping A Nuclear War, because it is the full version of what God wants you to know about him.

Since the purpose of this book is to prevent a nuclear war it is about dealing with modern problems, not about outdated Biblical stories. If you wanted that then read the Bible. But if you want to know what God wanted people to know about himself then read this book.