UNNATURAL CAUSES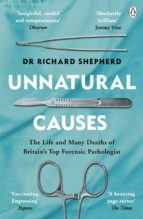 Ficha técnica

Editorial:

ISBN:

9781405923552

Idioma:

INGLÉS

Formato:

EPUB

DRM:

Si
Comprar
'One of the most fascinating books I have read in a long time. Engrossing, a haunting page-turner. A book I could not put down' The Times
__________
Meet the forensic pathologist, Dr Richard Shepherd.
He solves the mysteries of unexplained or sudden death.
He has faced serial killers, natural disaster, 'perfect murders' and freak accidents, all in the pursuit of the truth.
He's a detective in his own right.
And he has one, ultimate and pressing question to answer:
How did this person die?
Unnatural Causes is an unputdownable record of an extraordinary life, a unique insight into a remarkable profession, and above all a powerful and reassuring testament to lives cut short.
If you liked All That Remains and When the Dogs Don't Bark, you'll love this.
__________
Included in The Times Books of the Year 2018
'An absolutely brilliant book. I really recommend it, I don't often say that but it's fascinating' Jeremy Vine, BBC Radio 2
'Puts the reader at his elbow as he wields the scalpel' Guardian

'Fascinating, gruesome yet engrossing' Richard and Judy, Daily Express

'Heart-wrenchingly honest' Professor Sue Black, author of All That Remains

'Fascinating, insightful, candid, compassionate' Observer
DR RICHARD SHEPHERD
Richard Shepherd was born in West London but grew up in Watford. At the local grammar school he was introduced to a medical textbook smuggled into the classroom by a friend which opened his eyes to the world of crime and murder, setting him on a lifelong quest to understand death in its many forms. He trained as a doctor at St George's Hospital medical school at Hyde Park Corner, qualifying in 1977 and then completed his postgraduate training as a forensic pathologist in 1987. He immediately joined what was then the elite forensic department at Guy's Hospital.
He has been involved nationally and internationally in the forensic investigation of thousands of deaths from unnatural causes, from headline-making murders to mass natural disasters, and many sudden and unexplained deaths that his investigations showed were from natural causes or due to accidents. His skills and expertise still remain in demand around the world.