VILLAINS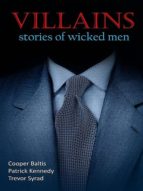 Ficha técnica

Editorial:

ISBN:

9783959266772

Idioma:

INGLÉS

Formato:

EPUB

DRM:

Si
Comprar
It's impossible to deny it... as much as we hate criminals for the things they do, and fear their terrible crimes more than anything else... we are all fascinated by people who do bad things.

In this collection of short stories about real people, you will meet some of the most evil, most daring and most interesting criminals from history. Read about Guy Fawkes and his plot to kill the King of England by blowing up the House of Lords; and the captain of the slave ship the Zong, a man who did unspeakable things to his fellow man. Learn about Rasputin, the Mad Monk, and the strange power that he held over the Russian royal family; and Ronnie Biggs, the great train robber, and how he was caught and then escaped from prison. You will also come face to face with two of the most evil men in history - Colonel Gadaffi, who ruled his country, Libya, with an iron fist; and the Unabomber, a terrorist who targeted innocent people in a bombing campaign that terrified America for over twenty years.

Villains is published by Hippo Books, a publisher dedicated to producing interesting, readable and fun books. This book is suitable for English students with upper-intermediate English or higher. Be sure to check out our other Hippo Graded Readers.

About the Authors:

Patrick Kennedy is the chief editor at Hippo Books. He is also one of Hippo's principal writers. He is a DELTA qualified English teacher with over ten years' experience teaching in Europe and Asia. Patrick has also written three English language textbook series. He is the author of the Mahoney Green mysteries and has contributed to many of Hippo's short story collections.

Cooper Baltis is one of the writers and founders of Hippo Books. He is a former Fulbright English Teaching Assistant at the National University of Mongolia and is TESOL certified. He has taught English in Asia for five years and has published stories in several literary magazines in America. His Hippo books include Hassan and Lulu and My Brother the Giant, as well as many short story collections.