WARDEN (BOOK 2: LURE OF THE LAMIA)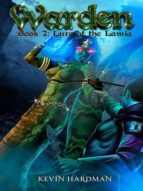 Ficha técnica

Editorial:

ISBN:

9781937666132

Idioma:

INGLÉS

Formato:

EPUB

DRM:

Si
Comprar
Part lawman, part tracker and part magician, the Wardens are monster-hunters - tasked with protecting the people from the various, nightmarish creatures that have invaded the world of men.

Despite his personal dislike for the job, Errol Magnus has faithfully carried out the daunting (and singularly dangerous) duties of Warden for their region in place of his missing brother Tom. Truth be told, despite his reluctance in accepting the role, there is no one better suited for it in terms of knowledge, training and skill.

Arriving home after an extended sojourn in the Badlands, where monsters are as common as blades of grass, Errol longs for just a single day to pass that doesn?t require him to put his life in danger. His desire for a respite, however, is complicated by two things: the arrival of a mysterious troupe of performers - and the appearance of a bloodthirsty creature that kills its victims in a horribly gruesome fashion.

Now Errol must determine what connection - if any - exists between the troupe and the killings, as well as find a way to stop the monster before the body count goes any higher.