WEREWORLD: SHADOW OF THE HAWK (BOOK 3)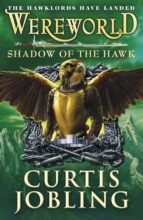 Ficha técnica

Editorial:

ISBN:

9780141972299

Idioma:

INGLÉS

Formato:

EPUB

DRM:

Si
DREW FERRAN, THE RIGHTFUL KING OF WESTLAND, IS TRAPPED.
Enslaved by the Goatlord Kesslar, young werewolf Drew finds himself on the volcanic isle of Scoria, forced to fight in the arena for the Lizardlords. With the help of an unlikely ally, he must find a way to break free - but who has ever managed to escape?
Meanwhile, Hector the Wereboar flees the forces of the Catlords. Now on board the pirate ship Maelstrom, the enemy's net is closing in. Haunted by the spirits of the dead, Hector is soon left wondering who the true enemy is . . .
Book three in the Wereworld fantasy-adventure series from Curtis Jobling, the award-winning designer of Bob the Builder. Wereworld: Rise of the Wolf was shortlisted for the 2011 Waterstone's Children's Book Prize.
Perfect for fans of Christopher Paolini's Eragon, Eldest, Brisingr and Inheritance books.
CURTIS JOBLING
The designer of Bob the Builder, creator of Frankenstein's Cat and Raa Raa the Noisy Lion, and the author/illustrator of numerous children's books, Curtis Jobling lives with his family in Cheshire, England.
Early work on Aardman's Wallace & Gromit and Tim Burton's Mars Attacks led to him picking up his crayons in 1997 to design the BAFTA winning Bob. The animated series of Frankenstein's Cat, based upon Curtis's book of the same name, picked up the Pulcinella award for Best Children's Show at the 2008 International Cartoons On The Bay festival in Salerno, Italy. His noisy new preschool show, Raa Raa, can be seen on CBeebies, while his original paintings and prints sell in galleries the world over.
Although perhaps best known for his work in TV and picture books, Curtis's other love has always been horror and fantasy for an older audience. Wereworld is his first novel.
www.curtisjobling.com