WHY SKEETS MALLOY HAS TWO HEADS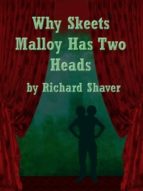 Ficha técnica

Editorial:

ISBN:

9781612103365

Idioma:

INGLÉS

Formato:

EPUB

DRM:

Si
Comprar
An Old Carny Man Doesn'T Like To Give Away Trade Secrets, And Skeets Had Good Reasons When He Tried To . . . But The Prof Used A Very Odd Trick To Stop Him!


Excerpt

So you want to know why Skeets looks like that? Well, I'm probably one of the few men on the face of the Earth who could tell you the honest lowdown on Skeets Malloy. I've known Skeets ever since he poked them two heads of his through this carny's office-wagon door and got himself a job. That was a long time ago.

Skeets was born that way, of course. But it never bothered him being different, until he met the Professor. You see, he wasn't really different from other people, not the way he looked at it, and he didn't even think much about being different. The Professor changed all that and ruined poor Skeers for life. If it wasn't for this carny- Well, you know how people are about such things. But he's pretty happy now, and it turned out to be a good thing for our set-up here, too. You see, aside from his two heads, Skeets turned out to be an old carnival man. Just a natural for the business, you might say.

But let me tell you about it.

Skeets had always accepted his appearance, just like you accept having two legs and one nose and freckles. He's a cagey guy, too. It would take the sharpest con in the rackets to touch Skeets for more than bus fare.