WILL I SEE MY PET IN HEAVEN?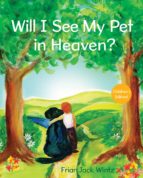 Ficha técnica

Editorial:

ISBN:

9781612610993

Idioma:

INGLÉS

Formato:

EPUB

DRM:

Si
Comprar
Friar Jack wants you to know: God loves and cares for all creatures, including and especially those we are closest to! "Today at school, one of the kids told me that only humans go to heaven," my young friend, Eva Maria said. "I almost started to cry. Is that true, Friar Jack?" She went on, "My dog Daisy is my best friend. When I go home she jumps into my arms and licks my face. Wouldn't God want her to be with me in heaven?" Eva Marie looked at me, waiting for my answer. . . "We don't know everything God has planned for us in heaven," I told Eva. "But there are many good reasons for you to believe that your dog, cat, fish, hamster, snake, ferret, iguana or any other creature that God created will go to heaven when it dies. God has given us clues and hints in stories from the Bible and in the teachings of my favorite saint, Francis of Assisi" This charming book is the children's edition of the Paraclete bestseller, I Will See You in Heaven (more than 25,000 copies sold). It comforts and explains to children that God loves and cares for all creatures, including and especially those we are close to. Includes a presentation page for gift-giving.
JACK WINTZ, OFM
Jack Wintz, O.F.M., has been writing and editing for St. Anthony Messenger magazine since 1972. His stories and photos have taken the Franciscan friar all over the United States as well as Asia, Europe, the Middle East and to more than a dozen Latin American countries. Among Father Jack's many interviews are those with Mother Teresa of Calcutta, Gene Kelly, Bob Newhart, Martin Sheen and Senator Edward Kennedy. Since 2001, he has been the author of the e-newsletter Friar Jack's E-spirations (www.friarjack.org).