WITH REGRET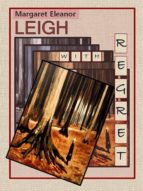 Ficha técnica

Editorial:

ISBN:

9781311044440

Idioma:

INGLÉS

Formato:

EPUB

DRM:

Si
Comprar
What if that Van Gogh hanging on the gallery wall is really a forgery?

Art historian Charlotte James is trying to put the past behind her, as well she might. That criminal conviction isn?t anything to be proud of. So when a dodgy dealer called Evans comes tapping on her door, saying he?s got some ?bits and pieces? that no doubt fell off the back of a museum van, her immediate instinct is to walk away. But Charlotte isn?t really in any position to be fussy about clients. Her business is circling the plughole, and lately she?s been reduced to cataloguing teapots. So she ignores the voice of reason and good sense and steps into Evans? world.
He?s somehow got his hands on a drawing that appears to be a genuine Van Gogh. There?s only one problem. The original is hanging on the walls of the Museum of Modern Art in Cardiff. Or is it?
Thus begins an investigation that will take Charlotte back to World War II, a time when London?s major art collections were evacuated to the countryside to avoid the Blitz. It was also a time that afforded someone the perfect opportunity for a little light forgery.
In uncovering the crimes of the past, Charlotte must also confront the villains of the present, and this includes Evans. She has some assistance in the form of her grumbling, reluctant accomplice, Gareth, and while they might not be Holmes and Watson, they?ve certainly got their own unique chemistry.