YOUNG SAMURAI: THE WAY OF FIRE (SHORT STORY)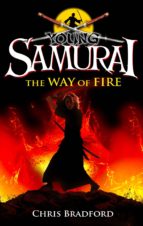 Ficha técnica

Editorial:

ISBN:

9780141344157

Idioma:

INGLÉS

Formato:

EPUB

DRM:

Si
Comprar
A short story for the Young Samurai series!
Japan, 1612. Shipwrecked and his father murdered by ninjas, Jack Fletcher is rescued by the legendary swordmaster Masamoto Takeshi and taken to his samurai school in Kyoto. Hunted by the ninja Dragon Eye, Jack's only hope is to become a samurai warrior. And so his training begins . . .
In order to perfect his fighting skills, Jack goes on a gasshuku. But nothing can prepare him for the punishment of warrior camp - the climax of which is to enter the Way of Fire, a terrifying ritual that burns away evil. Can Jack overcome his fear and walk the Way of Fire?
Part of the award-winning Young Samurai series by Chris Bradford.
Visit www.youngsamurai.com for competitions and to find out more about the books.
Previously published for World Book Day.
'A fantastic adventure that floors the reader on page one and keeps them there until the end' - Eoin Colfer
'Addictive' - Evening Standard
CHRIS BRADFORD
Chris Bradford has trained in karate, kickboxing and samurai swordsmanship. He earned his black belt in Zen Kyo Shin Taijutsu, the secret fighting art of the ninja. Before writing the Young Samurai series, he was a professional musician and songwriter and has performed for HRH Queen Elizabeth II.
You can learn more about Chris Bradford and his books at www.youngsamurai.com.